How Exactly Did Dee's Committee Determine Punishments?
The specter of Dee's bias was apparent from the moment the COI decision was made public. While the COI was staffed with several other professionals, and the NCAA's compliance investigators had on their own clearly participated in prosecutorial improprieties (not only by coercing Lake to change testimony, but listening in on illegally-recorded taped phone calls made by Lake), it was Paul Dee who instantly became the poster boy of NCAA discipline. Immediately after sanctions were announced, Dee held a press conference where he told the media that USC's punishments were based – not on NCAA precedent – but on the sanctions the NCAA had imposed on Dee's Miami program back in the '90s resulting from the biggest Pell Grand scandal in United States history – a scandal which involved Miami coaches and staff illegally funneling Pell Grant funds to Miami football players.
For that, the NCAA imposed a loss of 31 scholarships and a two-year bowl ban. Dee appealed, and the NCAA reduced the penalty to 24 scholarships and a one-year post-season ban. During his June 10, 2010 press conference, Dee unmistakably explained that Miami's Pell Grant sanctions were used as the benchmark for the sanction his Committee was imposing on USC (never mind that Miami's infractions actually involved University employees fraudulently directing taxpayer cash to football players). Indeed, Dee even pontificated on how USC could recover going forward by using Miami as an example: "You have to be extremely careful in your recruiting. Only bring in the right people that are going to be able to help you, was our point of view back at Miami."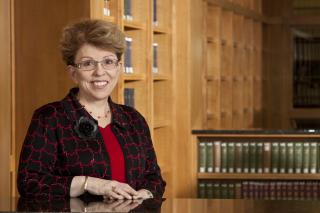 Committee on Infractions member Josephine Potuto was reportedly instrumental in the sentence handed down against USC
It was also during this press conference that Dee made what had previously been the most famous line of the Bush ordeal: "This case strikes at the heart of the principles of amateurism." Only now, against the backdrop of eight years of Nevin Shapiro running rampant under Dee's nose, has his other notable quote from that press conference risen to such prominence:
"High profile players demand high profile compliance."
Taking this standard at face value, one wonders exactly what Dee would now find as the proper punishment for his Miami program – a Dee program which apparently failed to administer compliance over some of the most high profile football players in recent memory: Frank Gore, Devin Hester, Andre Johnson, Willis McGahee, Antrel Rolle, Sam Shields, Sean Taylor, Jonathan Vilma, Vince Wilfork, Kellem Winslow, Jr., D.J. Williams – i.e., the starting lineup for the Pro Bowl.
Of course, the punishment handed down to USC – for benefits to one player with no involvement from University employees, alumni or boosters – hugely complicates any punishment for Miami. If Paul Dee's 30-scholarship, two-year-bowl-ban, every-junior-and-senior-is-a-free-agent standard is applied, what does Miami get? As I Tweeted on Tuesday, using the "high profile players demand high profile compliance" standard, Miami has about 78 Reggie Bushes on its hands.
The simple answer, of course, is that the NCAA won't punish Miami in accordance with this standard; it's wholly impractical, if not impossible.
Of course, Dee must have known the absurdity of the standard he had established. He had to have known that under this standard punishment for the more serious "university-sponsored" wrongdoing (i.e., involving coaches, staff, boosters, recruiting, etc.) would not be at all feasible. Scandals involving multiple players and university staff or boosters would warrant program-crippling sanctions if not outright termination.
In the most fundamental way, the sanctions handed to USC by Paul Dee were arbitrary and were capricious. Far from based on an objective standard of conduct and discipline, Dee used his own personal history of punishment. The NCAA then only exacerbated Dee's shenanigans by purporting to remove the boundaries of precedent from its disciplinary decisions. This of course was a huge mistake and for a host of reasons.

Current NCAA President Mark Emmert
USC Was Part of a Pattern for Dee, Not the Exception
As Doug Krikorian of the Long Beach Press-Telegram reported on Thursday, the Long Beach State men's basketball team also had a disturbing run-in with Paul Dee. In August 2007 Paul Dee summoned the president, athletic director and vice-president of student affairs for Long Beach State to Indianapolis following on the university's self-reporting of irregularities concerning summer schools courses taken by players on the men's basketball team. The 13½ hours of grilling meted out by Paul Dee on that day was among the most condescending the three senior administrators had received in their lifetimes.
Krikorian reports that Dee told the Long Beach State senior administrators, "You have to put in place the kind of institutional control we have at Miami." That bears repeating. Dee told the president, athletic director and vice-president of student affairs for Long Beach State that they needed to implement the kind of institutional control Paul Dee had at Miami!
Two more footnotes to the story are telling. First, one of the other members of the NCAA Infractions Committee in that hearing was on faculty at the University of Nebraska – presumably law professor Josephine Potuto. This is the same Professor Potuto who testified before a U.S. Senate Committee (headed by Max Bachus) that the COI accorded due process protection to its targets which "very likely exceeded any applicable 14th Amendment procedural protections" – and who is reported to have made repeated factual errors in accusing coaches and administrators during USC's hearing before Dee's COI in February 2010. On the same day the three Long Beach State administrators appeared before Dee and Potuto's Committee, six University of Nebraska athletes were arrested for illegally selling sporting apparel.
But perhaps more disturbing is Krikorian's account of a separate incident involving Long Beach St. President F. King Alexander and Paul Dee's University of Miami. In 2005 Alexander was president at Murray State University. That year he fired Murray State's football coach, Joe Pannunzio, because of what Alexander described as "numerous" "quite bad" "incidents." Pannunzio was immediately hired by Miami's football program. Pannunzio was one of the coaches prominently mentioned by Nevin Shapiro in the current scandal.

Continue Reading . . .
2,355 total views, 1 views today